Find out what's on our minds at the Buls Hodge blog. Go >>

The BulsHodge Consulting Advantage
Experience
Founded in 1998 by Michael Buls and Charles Hodge, Buls Hodge Consulting has over 80 years of combined commercial real estate experience.


Sublease Specialists
In 2001, Michael Buls' creation of the Austin Market Sublease Report which enabled Austin real estate brokers a way to combine and share sublease listings and information. What this means for our clients is comprehensive, up to the minute information on available sublease space as they become available.


Call Center and Data Center Experts
Austin is an up-and-coming technology center that hosts both established companies as well as promising start-ups. Whether you are needing space for a simple call center or complex data center, we have the knowledge and experience necessary to meet all your space requirements.

Whatever your Texas commercial real estate needs, we've got you covered. With offices in Austin, Dallas, and Houston, our experienced brokers specialize in office, industrial, and retail buildings, saving our customers time and money in the purchasing, selling, or leasing of commercial real estate.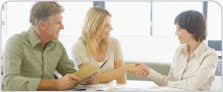 ---
Tapestry Dance Company
In the dust of the downtown wrecking balls, Mike Buls has been a conscientious and knowledgeable addition to our "Find a New Home" team. As a leading non-profit arts organization here in Austin it was imperative that we remain central and within the heart of the city. Through a long and tedious search for the perfect locale, Mike has remained a part of our family even as we have settled in at our new digs on Western Trails! Always keeping in touch and with our needs at the forefront, we look forward to working with Buls Hodge in solidifying the purchase of this new home.
- Acia Gray,
Executive Artistic Director
Read More Testimonials >>