Find out what's on our minds at the Buls Hodge blog. Go >>

Services
The real estate needs of today's highly efficient businesses are complex and can have a direct impact on a company's operating costs and ultimately the bottom line. That is why we view each client as a partner, taking a strategic approach to the process so that we take into account each client's total real estate need, from short-term immediate placement to long-term planning and forecasting.
Tenant Representation
Buls Hodge provides representation services for clients looking to lease commercial property space.
Our services include:
Location analysis
Proprietary market analysis
Leasing and improvement negotiations
Lease proposals and construction planning
Broker's Opinion Value
Buls Hodge experience in negotiations,research and market knowledge ensures that you will feel good about the lease you are signing. Commercial Real Estate is always changing, allow us to help you navigate your negotiations so you and your company do not make a mistake that could cost you thousands of dollars.
Landlord Representation
Through our experienced team of professionals, Buls Hodge provides listing services for landlords of commercial properties.
Buls Hodge's advantage in commercial landlord representation comes from our awareness of the harmony and discord between market conditions and our client's needs. Our all-inclusive service is based on a proven strategy that benefits both landlords and tenants.
Buyer Representation
Buls Hodge Consulting provides buyer representation for clients seeking to purchase or invest in commercial real estate.
Our services include:

Value analysis of income, costs and comparable properties
Credible negotiation tactics and skills
Listing services, including marketing and leasing strategies for your investment property
At Buls Hodge, our tested methods have helped clients understand the commercial real estate market and make stronger financial decisions during the purchasing process. By utilizing our services, you can avoid making the costly mistakes of misinformed buyers that lead to loss of capital and opportunity. Buls Hodge can also provide lending resources to help with financing.
Seller Representation
At Buls Hodge, our team of professionals provides clients with listing services for owners of commercial property.
Choosing Buls Hodge will allow you to take advantage of our 8 step marketing process to ensure the proper marketing and representation of your property. You can also ask for a broker's opinion of value to ascertain what your property is worth to determine how quickly your property can be sold in today's market.
Special Services: Sublease, Data Center, and Call Center Specialists
Call Centers
At Buls Hodge Consulting, we know that not all office space is created equal. The size and layout of space is dependent upon the business function to be performed and it is important to take into consideration the effect workspace has on employee performance and moral. Call centers especially benefit from proper space planning-including work stations and common areas. Available parking space is also a major consideration as call centers employ a large number of agents relative to square footage.
Whether you are looking for a space to handle outbound sales, inbound customer service, or provide an internal IT help desk, we can help you calculate the ideal amount of workspace needed and see to it that all the necessary hardware and telecommunications components are in place.
Data Centers
Perhaps no other type of office space is more important than the area that is a company's data center. Understanding that the main purpose of a data center is running the applications that handle the core business and operational data of every organization, large or small, means that we put extra effort in helping you secure a space that meets the stringent physical requirements of a data center - air temperature and humidity control, back up power supply, tiered electrical system, raised flooring, fire protection system, and security system. From a Tier 1 to a Tier 4 data center, occupying one room, several floors, or an entire building, we can find you the right space.
Sublease
High volume, high security, and high performance does not need to equal high cost. The sublease market is the most economical way of acquiring office space or, if you are a current tenant, the most profitable solution for un-used or extra office space. It is a win-win situation that benefits both parties. And at Buls Hodge Consulting, thanks to founder Michael Buls' creation of the Austin Sublease Report, we are able to provide clients with up to the minute information on available sublease space as they become available. That's an advantage you'll have only with us!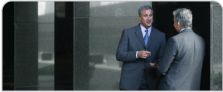 ---
Tapestry Dance Company
In the dust of the downtown wrecking balls, Mike Buls has been a conscientious and knowledgeable addition to our "Find a New Home" team. As a leading non-profit arts organization here in Austin it was imperative that we remain central and within the heart of the city. Through a long and tedious search for the perfect locale, Mike has remained a part of our family even as we have settled in at our new digs on Western Trails! Always keeping in touch and with our needs at the forefront, we look forward to working with Buls Hodge in solidifying the purchase of this new home.
- Acia Gray,
Executive Artistic Director
Read More Testimonials >>