Find out what's on our minds at the Buls Hodge blog. Go >>

Newsroom
State of the Central Texas Commercial Real Estate Market
December 2008
The Central Texas office market ended the third quarter of 2008 with a vacancy rate of approximately of 12.6 percent versus 11.6 percent at the end of the second quarter.
Nationally, office vacancy rates are running a little under 12 percent, meaning Austin is approximately 0.6 to 0.7 percent higher than the national average. Subleases are on the upswing.
Read More >
Maximizing Buying Power
February 2003
The Austin office of software company
Misys Healthcare Systems LLC
soon will move into nearly 28,000 square feet of Class A offices overlooking the Hill Country in Far Northwest Austin.
Although the space at River Place Pointe was marketed as a sublease from eLoyalty Corp., brokers for Misys worked out a five-year lease directly with landlord FIC Realty Services Inc.
Read More >
Broker Designs System to Track Sublease Space
July 2001
Mike Buls, commercial real estate broker, market researcher and principal of
Austin's Buls Hodge Consulting
, turned to his competitors this February in an effort to improve knowledge and awareness of the real estate market. Knowing 70 percent of available office space is sublease space, Buls began tracking that sector of the real estate market.
Read More >
Arboretum Space to Open Up
April 2001
The owner of a 186,000-square-foot office building in the Arboretum area is looking for tenants to fill the space after Computer Sciences Corp. empties the project later this year.
Although 9500 Arboretum might be one of the few large contiguous office projects on the market, brokers say it constitutes only a fraction of a growing pool of properties vying for tenants in a softening market.
Read More >
Sublease Space Soars
February 2001
Austin companies seeking space are finding their glass half-full of available real estate, thanks to a recent surge in subleasing.
"It wasn't until January that things started opening up everywhere," says Matt Marino, controller at Waveset Technologies Inc., an Austin software startup that's hunting for space
Read More >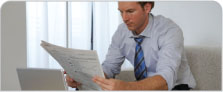 ---
Tapestry Dance Company
In the dust of the downtown wrecking balls, Mike Buls has been a conscientious and knowledgeable addition to our "Find a New Home" team. As a leading non-profit arts organization here in Austin it was imperative that we remain central and within the heart of the city. Through a long and tedious search for the perfect locale, Mike has remained a part of our family even as we have settled in at our new digs on Western Trails! Always keeping in touch and with our needs at the forefront, we look forward to working with Buls Hodge in solidifying the purchase of this new home.
- Acia Gray,
Executive Artistic Director
Read More Testimonials >>