Find out what's on our minds at the Buls Hodge blog. Go >>

Resources
There is no substitute for a broker who understands the current market conditions and how far to push for leasing incentives.

A good broker can add significant value to your commercial real estate selection process.
A strong understanding of zoning requirements can make all the difference in commercial real estate transactions.
Be absolutely sure your broker takes all appropriate actions to sell your property in a timely manner, and for the best price.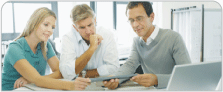 ---
Texas Children's Hospital
Our growth and construction program facilitated the need for off- site laboratories and administrative offices. Your research provided a perfect purchase of a two (2) story laboratory facility. Additionally, a different lease of several floors fully met our administrative needs.
- Mr. Alex White, Executive Director
Read More Testimonials >>