Find out what's on our minds at the Buls Hodge blog. Go >>

Resources
There is no substitute for a broker who understands the current market conditions and how far to push for leasing incentives.

A good broker can add significant value to your commercial real estate selection process.
A strong understanding of zoning requirements can make all the difference in commercial real estate transactions.
Be absolutely sure your broker takes all appropriate actions to sell your property in a timely manner, and for the best price.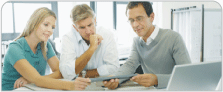 ---
Baylor College – Amphioxus Cell Technologies
We were looking for office / laboratory space in the Texas Medical Center area when we met Bryan Bell. He came up with an option to allow a new vision of what we were looking for in new market areas. This option allowed us to establish our research in an area at more than "ONE HALF" the cost of Medical Center space. We strongly recommend him to others who need professional assistance.
- Dr. James Kelly, President
Read More Testimonials >>