Find out what's on our minds at the Buls Hodge blog. Go >>

Resources
There is no substitute for a broker who understands the current market conditions and how far to push for leasing incentives.

A good broker can add significant value to your commercial real estate selection process.
A strong understanding of zoning requirements can make all the difference in commercial real estate transactions.
Be absolutely sure your broker takes all appropriate actions to sell your property in a timely manner, and for the best price.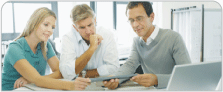 ---
Judge Robert O'Conor, Jr. and Associates
Based on your being referred to us, we moved forward with our search for a new, fresh office space with your diligent assistance. Knowing our needs were needed quickly, you moved forward with great haste to defer our paying the holdover provision set forth in our old lease. Your timely process allowed us to reduce our costs in a beautifully appointed environment. I look forward to our continued relations.
- Robert O'Conor, Jr., Managing Partner
Read More Testimonials >>