Find out what's on our minds at the Buls Hodge blog. Go >>

Resources
There is no substitute for a broker who understands the current market conditions and how far to push for leasing incentives.

A good broker can add significant value to your commercial real estate selection process.
A strong understanding of zoning requirements can make all the difference in commercial real estate transactions.
Be absolutely sure your broker takes all appropriate actions to sell your property in a timely manner, and for the best price.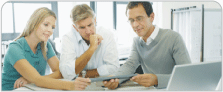 ---
Automatic Data Processing, Inc.
With all available options presented to us, we were able to substantiate the best alternative for our 24 / 7 computer center. Our search began with twenty-seven (27) properties. With specific electrical generation and backup needs, and your pinpointing more precise locations aided our strategy in finding and negotiating a long term lease. Your continued hard work paid great savings to us. Thanks again.
- Mr. Tom McKee, Chief Financial Officer
Read More Testimonials >>