Find out what's on our minds at the Buls Hodge blog. Go >>

Lease negotiation is one of the primary benefits of hiring a broker. Many times, people feel confident in their negotiation skills, but there is no substitute for a broker who understands the current market conditions and how far to push for leasing incentives. Real estate markets are not static, and a broker will provide a tremendous competitive advantage at no cost to you.
Based on more than 25 years of experience, Buls Hodge Consulting has assembled the following list of basic rules to follow in selecting the most desirable property:
Gather comparative data on properties of interest. Always have at least two choices, preferably three, to create competition.
Show interest in the building by taking property tours and asking questions. Respond promptly to questions from the leasing representative to establish a tempo in the negotiation. A slowdown in your communication conveys a loss of interest, and the owner needs to try harder.
Evaluate the key economic factors affecting rental rates. The basic laws of supply and demand hold true in commercial real estate. In rising supply markets, leasing incentives are larger. Conversely, incentives disappear during times of increasing occupancy. Other factors include financing costs, construction costs and inflation.
Know the type of owner. This information will allow you to develop a negotiation strategy, such as how far the owner can be pushed. Institutional owners and REITs have asset managers hired to set proforma returns for property portfolios. They have very little room for incentives. Often, asset managers' compensation is tied to how well they meet or exceed the proforma. As such, they are not motivated to compete through incentives. On the other hand, entrepreneur owners will make the best deal given current market conditions, and many local owners have more market savvy to make the best deal given current circumstances.
Know the building. Recently acquired or newly constructed buildings may have a higher costs basis and cannot offer incentives or come down on rate. Older buildings have a lower cost basis and a competitive advantage, which allows owners to act more aggressively in down markets to acquire desirable tenants. Subleases, for example, can give you a unique set of incentives that often include furniture, equipment and lower rates.
Hire a broker. Hiring a broker to represent your interests is a free way to garner an edge in the search for, and securing of, commercial real estate. There is no cost directed at the client, and based upon previous deals, experienced brokers have an intimate knowledge of how far to push negotiations to secure the best deal.

Gather

Information

>

Select

Choices

>

Compare

>

Weight

>

Counter

>

Repeat
Research properties and gather information to select a few top choices.
Using your top three choices, organize information as indicated on the "Starting Grid" below.
Compare properties financially using a net present value of cash flows over time.
Subjectively weigh each choice based on location, amenities, proximity to key employees, quality of the building and management. One way is to divide the net present value by 1.1 or 1.2 or 1.3 respectively to give a weighted present value.
Counter with your acceptable grid of incentives, rate and term. Evaluate the responses and repeat the process until you are satisfied with the combination of incentives.
Starting Grid


| | | | | | | | |
| --- | --- | --- | --- | --- | --- | --- | --- |
| Property | Usable SF | Add-on Factor | Rate | Expenses | Annual Escalations | Tenant Finish | Rating Factor |
| 1 | | | | | | | |
| 2 | | | | | | | |
| 3 | | | | | | | |
Lease Incentive Comparison
| | | | | | | |
| --- | --- | --- | --- | --- | --- | --- |
| Property | Moving Costs | Furniture | Equipment | Telecom | Wiring | Totals |
| 1 | | | | | | |
| 2 | | | | | | |
| 3 | | | | | | |
Subjective Weight Comparison 1-10


(10 = best)
Property

Location for Key Employees

Amenities


(restaurants, airport, post office, etc.)



Business Disruption

Property Management

Quality of Building

Totals

1

10

2

3

8

6

29

2

2

10

8

2

2

24

3

3

6

10

4

6

29

The paradigm above has been simplified. An experienced broker can manage the information, the counters and the process to attain the best possible incentives in the current market. For more information or assistance in gathering/processing this data, please contact Buls Hodge Consulting at (512) 480-3131 or fill out our
online form
.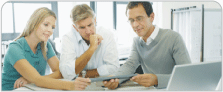 ---
Automatic Data Processing, Inc.
With all available options presented to us, we were able to substantiate the best alternative for our 24 / 7 computer center. Our search began with twenty-seven (27) properties. With specific electrical generation and backup needs, and your pinpointing more precise locations aided our strategy in finding and negotiating a long term lease. Your continued hard work paid great savings to us. Thanks again.
- Mr. Tom McKee, Chief Financial Officer
Read More Testimonials >>