Find out what's on our minds at the Buls Hodge blog. Go >>

The process of choosing a commercial real estate broker to be your representative in listing your property is extremely important. You want to be absolutely sure that your broker will take all appropriate actions to sell your property in a timely manner, and for the best price. (For more on selecting the best broker for you, please see our article, "Select a Real Estate Partner.")
After making this decision, it is critical to set an appropriate level of expectations with him/her regarding responsibilities. Asking the following questions when meeting with your new listing broker will help set the relationship on a positive course:
How will you (broker) price my property?


Your broker should tell you he/she will use a market data (comparables) approach, income approach, and cost (replacement value) approach.

How will you (broker) market my property?


Make sure the broker gets the property in front of the widest possible target audience, while keeping the marketing cost per potential buyer to a minimum. Part of the Buls Hodge Consulting strategy for our clients includes an 8-step marketing plan allowing clients to take advantage of enhanced communications, opening up a larger audience to buy or lease their properties. Effective marketing is essential in the selling and/or leasing of commercial real estate, and can make the process much more lucrative and efficient.


What do I (owner) need to do in order to support you (the broker) during this process?


When a broker is performing his/her duties properly, you the client should have very little, if anything, to do. You should, however, have the option to be as active as you care to be. Generally, owners are most involved in evaluating offers and negotiating any counter-offers.

What type of communication can I (owner) expect from you (broker) during this process?


Your broker should update you as often as you like. At Buls Hodge Consulting, we update our clients frequently regarding interest in their property, our marketing efforts, and our overall strategy to sell the property.

How often will you (broker) communicate with me (the owner) on the status of my property?


The correct answer is: As often as you want. The Buls Hodge Consulting team generally updates our clients on a bi-weekly or monthly basis. Naturally, we communicate more frequently when the need arises, and are always available to our clients.
Remember that the listing broker works for you, and should always be immediately forthcoming with any questions you have. At Buls Hodge we offer services tailored to the individual client and individual property. Our unique approach allows you to save valuable time, and ensures that your property is sold at the highest price. For more information on what type of questions you should be asking, or to learn more about the power of our services, contact us at (512) 480-3131 or fill out our
online form
for more information.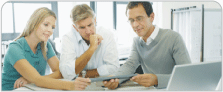 ---
Tapestry Dance Company
In the dust of the downtown wrecking balls, Mike Buls has been a conscientious and knowledgeable addition to our "Find a New Home" team. As a leading non-profit arts organization here in Austin it was imperative that we remain central and within the heart of the city. Through a long and tedious search for the perfect locale, Mike has remained a part of our family even as we have settled in at our new digs on Western Trails! Always keeping in touch and with our needs at the forefront, we look forward to working with Buls Hodge in solidifying the purchase of this new home.
- Acia Gray,
Executive Artistic Director
Read More Testimonials >>