Find out what's on our minds at the Buls Hodge blog. Go >>

If you could find an experienced professional with 20+ years of experience to aggressively look for the perfect location for your company, and stay on-time, on-budget, and cost-free, would you hire them?
A good broker can add significant value to your commercial real estate selection process. Their experience, established market knowledge, and negotiation proficiency allow for greater efficiency and cost-effectiveness. But how do you go about finding and hiring the best broker for your needs? The information outlined below will help you get a grip on this important decision.
The Job Description
ASSEMBLE A TEAM internally to work on your real estate needs. The decisions that need to be made are location, space plan, and the costs associated with the move. A good broker will also help you assemble this information, which is essential for finding and securing your new space.
CREATE A BRIEF DESCRIPTION of your space needs (i.e., number of employees, geographic boundaries, type of property, and physical essentials such as power, fiber, visibility, etc.).
WRITE A JOB DESCRIPTION for your perfect broker who works with the type of space you need, within your geographic area, and has a proven record of success with businesses similar to yours.
CREATE A CRITERIA WORKSHEET to evaluate your choices. You can download an example worksheet by clicking here (NOTE: link to worksheet PDF).

Hiring a Broker
SEARCH THE INTERNET to develop an initial list of brokers who handle what you need. Be it office, warehouse, or retail space, all experienced brokers now have websites with information about companies that are experienced in the skills you want.
POLL YOUR NETWORK for referrals to brokers you should add to your list, or to corroborate the names and companies you have found.
SCHEDULE AND HOLD INTERVIEWS to pick a broker or team of brokers that can handle your needs. Often the best interview is a presentation by the company with a follow-up Q&A to fill in any gaps.
USE THE CRITERIA WORKSHEET to subjectively and objectively evaluate individual brokers or companies. This should help to simplify your decision.
LOOK FOR CONFLICTS OF INTEREST with the broker or company you are hiring. Many large companies serve the dual role of representing clients and listing buildings for lease. This situation makes it difficult to remain impartial, and large companies often expose themselves to the pressures of showing their own property listings first. They may also represent your competitors and the potential for information leakage should be considered.
DECIDE WHETHER YOU NEED A NATIONAL OR LOCAL BROKER to ensure you get their full attention. National brokerage firms handle clients who have multiple locations around the state or country. There is also the potential for conflicts of interest because national firms list large blocks of space and have obligations to landlords and building owners. A strong, local-tenant representation firm specializes in meeting the needs of just a few clients. Top brokers only handle approximately 10 to 15 transactions a year, have a lot of experience, and provide a high level of service.

Planning Tools
A good broker will have valuable tools to help you plan your space needs, and keep you on the critical path to a successful lease negotiation and move. Following are a few effective tools:
CLIENT REQUIREMENT ANALYSIS – A questionnaire for essential data such as: number of employees, geographical boundaries, type of space, power needs, special needs (conference rooms, kitchen, etc.), clear height, server rooms, and dock loading.
MANPOWER PLANNING – A program designed to calculate the number of employees that you will need one, three, and five years out. This will help in negotiating for expansion space through the term of your lease, or securing the First Right of Refusal on adjacent space.
CRITICAL PATH CHART – This is designed to show parallel lines of tasks that need to be completed in order to find space, and to help assess information that is critical to locating space and performing final negotiations.
MOVE-IN CHECKLIST – Planning the perfect move is as important as hiring the best broker. Problems with critical services and timing can cripple a business during a move. You don't want to be sitting at work without telephones, network access, or important papers. A good check list is an important part of the process and can make for a smooth transition.

These are just a few tools Buls Hodge Consulting has used effectively with clients, and we can use them help you find space and efficiently plan your move.
Criteria Worksheet - 1 to 10


(10 = Best)



| | | | | |
| --- | --- | --- | --- | --- |
| Interview | Score X | Weight | Total | Comments |
| Appearance | 2 | 5 | 10 | |
| Presentation Skills | 4 | 4 | 16 | |
| Value of Information | 5 | 3 | 15 | |
| Team | 6 | 2 | 12 | |
| Experience | | | | |
| Years in Business | 10 | 1 | 10 | |
| Product Type | 9 | 10 | 90 | Extensive experience in office, warehouse, and site selection. |
| Testimonials | 8 | 9 | 72 | His clients love him. |
| Education and Professional Designations | 7 | 8 | 56 | CCIM, MBA, Commercial Realtor, CPM, etc. |
| Subjective | | | | |
| Rapport | 5 | 7 | 35 | I can work with this guy. |
| Style | 4 | 6 | 24 | Would work well with me and my company. |
| Communicates | 3 | 5 | 15 | Explains things well and uses written documents to facilitate the process. |
| Tools | | | | |
| Client Requirement Analysis | 2 | 4 | 8 | Really helpful in tinking through our needs. |
| Manpower Planning | 1 | 3 | 3 | Helped us to look 5 years out. |
| Space Needed Calculation | 10 | 9 | 90 | We needed 2,000 SF less than I thought. It saved us a lot of money. |
| Critical Path Chart | 5 | 6 | 30 | Kept us on track. |
| Move-In Checklist | 4 | 3 | 12 | What a smooth move. |
| Approved Vendor List | 3 | 1 | 3 | His vendors are great, as professional as the Company. |
| TOTAL SCORE | | | 501 | |
Finding space without the assistance of a professional is difficult and potentially costly, and hiring Buls Hodge Consulting is like creating your own real estate department. To schedule an interview or presentation, please call us at (512) 480-3131 or fill out our
online form
. We can help.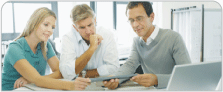 ---
Dancie Perugini Ware Public Relations
Your professional assistance allowed us to structure a lease providing us an environment for service to our clients. Our service-oriented business will continue to growth. Our continued success will surely call for your assistance in the near term.
- Ms. Laura Lee,
Vice President
Read More Testimonials >>