Find out what's on our minds at the Buls Hodge blog. Go >>

December 2008
The Central Texas office market ended the third quarter of 2008 with a vacancy rate of approximately of 12.6 percent versus 11.6 percent at the end of the second quarter.
Nationally, office vacancy rates are running a little under 12 percent, meaning Austin is approximately 0.6 to 0.7 percent higher than the national average. Subleases are on the upswing.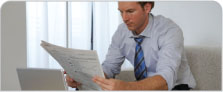 ---
Tapestry Dance Company
In the dust of the downtown wrecking balls, Mike Buls has been a conscientious and knowledgeable addition to our "Find a New Home" team. As a leading non-profit arts organization here in Austin it was imperative that we remain central and within the heart of the city. Through a long and tedious search for the perfect locale, Mike has remained a part of our family even as we have settled in at our new digs on Western Trails! Always keeping in touch and with our needs at the forefront, we look forward to working with Buls Hodge in solidifying the purchase of this new home.
- Acia Gray,
Executive Artistic Director
Read More Testimonials >>