Find out what's on our minds at the Buls Hodge blog. Go >>

December 2008
The Central Texas office market ended the third quarter of 2008 with a vacancy rate of approximately of 12.6 percent versus 11.6 percent at the end of the second quarter.
Nationally, office vacancy rates are running a little under 12 percent, meaning Austin is approximately 0.6 to 0.7 percent higher than the national average. Subleases are on the upswing.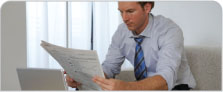 ---
Automatic Data Processing, Inc.
With all available options presented to us, we were able to substantiate the best alternative for our 24 / 7 computer center. Our search began with twenty-seven (27) properties. With specific electrical generation and backup needs, and your pinpointing more precise locations aided our strategy in finding and negotiating a long term lease. Your continued hard work paid great savings to us. Thanks again.
- Mr. Tom McKee, Chief Financial Officer
Read More Testimonials >>