Find out what's on our minds at the Buls Hodge blog. Go >>

December 2008
The Central Texas office market ended the third quarter of 2008 with a vacancy rate of approximately of 12.6 percent versus 11.6 percent at the end of the second quarter.
Nationally, office vacancy rates are running a little under 12 percent, meaning Austin is approximately 0.6 to 0.7 percent higher than the national average. Subleases are on the upswing.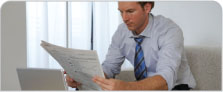 ---
Sage Advisory Services, Ltd.
The Buls Hodge team was accurate, dedicated, and professional in fulfilling our company's real estate needs. We couldn't have asked for a better firm to represent us in such a critical decision in our company's expansion.
- Richard Williams, Vice-President of Operations
Read More Testimonials >>