Find out what's on our minds at the Buls Hodge blog. Go >>

December 2008
The Central Texas office market ended the third quarter of 2008 with a vacancy rate of approximately of 12.6 percent versus 11.6 percent at the end of the second quarter.
Nationally, office vacancy rates are running a little under 12 percent, meaning Austin is approximately 0.6 to 0.7 percent higher than the national average. Subleases are on the upswing.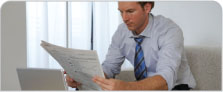 ---
South Texas College of Law
Our college needed professional assistance in determining the value of a proposed leasing arrangement. While we have an affluence of legal talent, but your consultation provided invaluable information in our proceeding with our planned objectives for the continued growth of our institution.
- W. J. Williamson, Dean
Read More Testimonials >>